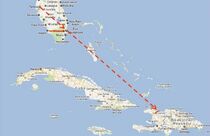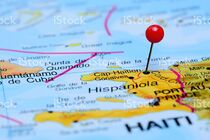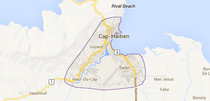 Cap-Haïtien (or Le Cap) (pronounced 'Cap-Hay-Shen') is a city of about 275,000 people on the north coast of Haiti.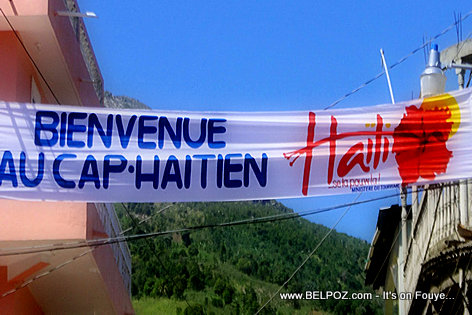 Cap-Haïtien is the capital of Nord department. Due to its proximity to wide Caribbean beaches to its northwest, Cap-Haïtien has traditionally been a resort and vacation destination for Haiti's upper classes.
The central area of the city is located between the Bay of Cap-Haïtien to the east, and nearby mountainsides to the west, which are increasingly dominated by flimsy urban slums. The streets are generally narrow and arranged in grids. As a legacy of the US occupation of Haiti from 1915-1934, Cap-Haïtien's north-south streets were re-named as single letters (beginning with Rue A, a major avenue), and its east-west streets with numbers. This system breaks down outside of the central city, which is itself dominated by numerous markets, churches, and low-rise apartment buildings (3-4 floors each) constructed primarily before and during the US occupation. Many such buildings have balconies on the upper floors which overlook the narrow streets below, creating a an intimate communal atmosphere during the Haitian dinner hours.
Cap-Haïtien is also the nearest sizeable city to the historic Haitian town of Milot, which lies 12 miles to the south along a gravel road. Milot was Haiti's former capital under the self-proclaimed King Henri Christophe, who ascended to power in 1807, three years after Haiti had gained independence from France. As a result, Milot hosts the ruins of the Sans Souci palace, wrecked in an 1800's-era earthquake, as well as the massive Citadelle Laferrière, an immense stone fortress bristling with cannons. The Citadelle is located five miles from Milot, atop a nearby mountain.
However, severe poverty, and the instability caused by several coups and rebellions since 1991, has sharply curtailed the number of visitors to Cap-Haïtien, especially those from outside of Haiti.
The small Cap-Haïtien airport, located on the southeast edge of the city, is currently served by several small domestic airlines, and is patrolled by Chilean UN troops. International service to Ft. Lauderdale, Florida is provided five days per week by Lynx Air International. The city hosts several hundred UN personnel as part of the ongoing United Nations Stabilization Mission in Haiti (MINUSTAH).
Cap-Haïtien's distance from Haiti's capital, Port-au-Prince, combined with the extremely dire condition of Haiti's transportation infrastructure, has often made Cap-Haïtien an incubator for revolutionary or anti-government figures. In February 2004, the city was taken over by militants opposed to the rule of Haitian president Jean-Bertrand Aristide, presaging Aristdide's eventual exile from power.
The walled Labadie beach resort compound is located six miles to the city's northwest, and serves as a brief stopover for Royal Caribbean cruise ships. It is connected to Cap-Haïtien via an unimproved and mountainous dirt and gravel road.
External link
Edit
Ad blocker interference detected!
Wikia is a free-to-use site that makes money from advertising. We have a modified experience for viewers using ad blockers

Wikia is not accessible if you've made further modifications. Remove the custom ad blocker rule(s) and the page will load as expected.