Ad blocker interference detected!
Wikia is a free-to-use site that makes money from advertising. We have a modified experience for viewers using ad blockers

Wikia is not accessible if you've made further modifications. Remove the custom ad blocker rule(s) and the page will load as expected.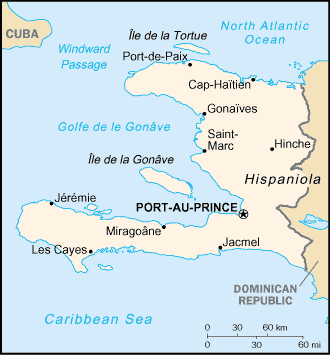 The nation of Haiti comprises the western one-third of the island of Hispaniola, west of the Dominican Republic and between the Caribbean Sea and the North Atlantic Ocean. Haiti's geographic coordinates are at a longitude of 72° 25′ west and a latitude of 19° 00′ north. The total area is 27,750km,² of which 27,560km² is land and 190km² is water. This makes Haiti slightly smaller than the U.S. state of Maryland. Haiti has 1,771km of coastline and a 360km-border with the Dominican Republic.
Haiti's lowest elevation is at sea level; its highest point is Chaine de la Selle at 2,680m. There are no navigable rivers; the largest lake is Etang Saumâtre, a salt-water body located in the southern region.
Maritime claims
Climate

Tropical; semiarid where mountains in east cut off trade winds

Terrain

Mostly rough and mountainous
Natural resources

Land use

Arable land: 20.32%
Permanent crops: 12.7%
Other: 66.98% (1998 est.)
Natural hazards

Lies in the middle of the hurricane belt and subject to severe storms from June to October; occasional flooding and earthquakes; periodic droughts

Environment--current issues

Extensive deforestation (much of the remaining forested land is being cleared for agriculture and used as fuel); soil erosion; inadequate supplies of potable water

Environment--international agreements