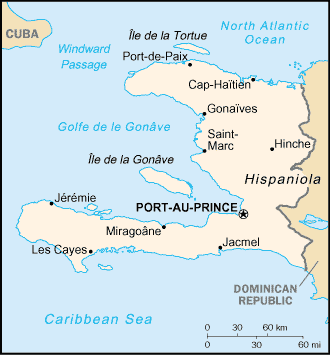 The nation of Haiti comprises the western one-third of the island of Hispaniola, west of the Dominican Republic and between the Caribbean Sea and the North Atlantic Ocean. Haiti's geographic coordinates are at a longitude of 72° 25′ west and a latitude of 19° 00′ north. The total area is 27,750km,² of which 27,560km² is land and 190km² is water. This makes Haiti slightly smaller than the U.S. state of Maryland. Haiti has 1,771km of coastline and a 360km-border with the Dominican Republic.
Haiti's lowest elevation is at sea level; its highest point is Chaine de la Selle at 2,680m. There are no navigable rivers; the largest lake is Etang Saumâtre, a salt-water body located in the southern region.
Maritime claims
Climate

Tropical; semiarid where mountains in east cut off trade winds

Terrain

Mostly rough and mountainous
Natural resources

Land use

Arable land: 20.32%
Permanent crops: 12.7%
Other: 66.98% (1998 est.)
Natural hazards

Lies in the middle of the hurricane belt and subject to severe storms from June to October; occasional flooding and earthquakes; periodic droughts

Environment--current issues

Extensive deforestation (much of the remaining forested land is being cleared for agriculture and used as fuel); soil erosion; inadequate supplies of potable water

Environment--international agreements
Ad blocker interference detected!
Wikia is a free-to-use site that makes money from advertising. We have a modified experience for viewers using ad blockers

Wikia is not accessible if you've made further modifications. Remove the custom ad blocker rule(s) and the page will load as expected.