Hinche (Kreyòl: Ench, Spanish: Hincha) is a city in central Haiti, near the border with the Dominican Republic. It has a population of about 50,000. It is the capital of Centre department.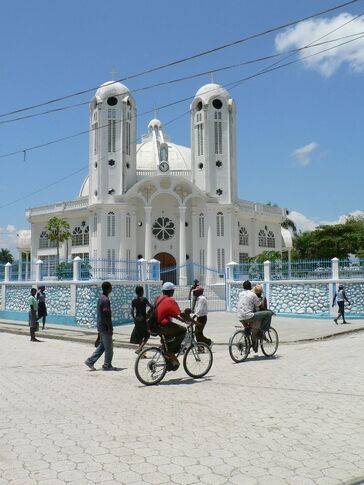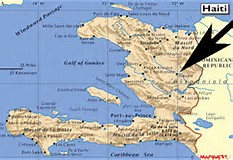 History
The city of Hinche was founded in the 16th century (1502). It became a Spanish city in 1720 and became a Haitian city in 1794. Raised to the rank of commune in 1794, it became head of the department of the Center in 1976.
Geography
The town of Hinche has a district and four communal sections. It is interior by its position, its dominant relief is the plateau and its climate is considered normal. The Inhabitants of this town are named Hinchois. In 1998, the population of the commune of Hinche was 56,770 inhabitants and in the year 2009 it reached more than 100,000 inhabitants. The city center measures a little over a square mile (3.5 km2) and has a density of about 28,746 within that square mile (9,965 per km2).
Neighborhoods
Edit
| HIC | Hinche | 120,867 | | |
| --- | --- | --- | --- | --- |
| VHI | Ville de Hinche | 37,370 | | |
| QLP | Quartier de Los Palis | 1,265 | | |
| JUA | 1ère Section Juanaria | 23,135 | | |
| MMO | 2ème Section Marmont | 16,670 | | |
| AGU | 3ème Section Aguahedionde (Rive Droite) | 20,312 | | |
| AGH | 4ème Section Aguahedionde (Rive Gauche) | 22,115 | | |
Hinche, capital city of Centre division, has 50,000 residents, most of whom are African from the Republic of Congo. Hinche has established Catholicism as its designated religion, but people are free to worship as they choose. As elsewhere in Haiti, a small segment of the population are Voodoo believers.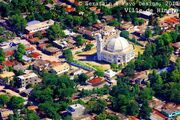 ---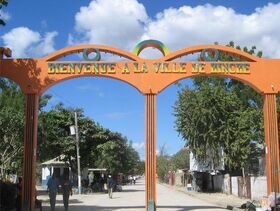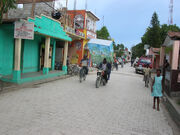 Local flavor
Edit
Hinche residents enjoy French-Creole food, standard items like jerked beef and lobster, fare that is on Caribbean plates everywhere. Hinche's variable climates yield a bounty of tropical fruits and vegetables. A full-flavored and sweet coffee indigenous to Hinche is paired with the region's Barbancourt rum.
---
With regard to Economic and Financial Infrastructures, the municipality of Hinche has three hotels, three restaurants, a bank and a marketing cooperative. After the Ministry of National Education of Youth and Sports and that of Public Health and Population, several other ministries have direct representatives in the commune. These include the Ministry of Commerce, the Ministry of Social Affairs, the Economy and Finance, Planning and External Cooperation, among others.
Agriculture, Livestock and Trade remain the main economic activities of the municipality of Hinche. Therefore, she has several commercial establishments located in the city and in Pandiasou. In addition, a gas station, a private morgue, five pharmacies, three photocopies, a beauty studio, five photography studios and a dry cleaning were also inventoried at Hinche.
In the absence of road infrastructure, tourist activities are almost non-existent. However, there are many sites in the town that could arouse the admiration of visitors. We can cite for example: Layaille (Cave and waterfall) which is in the communal section of Juanaria.
Infrastructure
Edit
The infrastructure of Hinche is not well-developed. Its main thoroughfare, Route Nationale 3, a rough dirt road, demands an RV to negotiate it successfully. Driving from Port-au-Prince to Hinche along this route is a minimum three-hour trip. As you drive the highway onto the Central Plateau, casualties of a 1991 coup d'etat can be seen, for example, an unused hydroelectric dam. The Haitian National Army mounted an attack on the area's peasants and left them destitute of water sources. After Haiti's monstrous earthquake of 2010, refugees from Port-au-Prince and elsewhere overwhelmed the small city, putting enormous stress on its resources, especially the Hinche Cholera Hospital.
Hinche operates one of the larger airports in the country, its runway serving a dual purpose. Before planes can land on its dirt pavement, animals and humans must be blocked from using the road. Hinche may lack drivable roads, but it possesses abundant media outlets. It operates six radio and four TV stations.
Transportation
The roads that connect the city to communal sections are gravel. It is the same for the communal sections. It is necessary to except Aguahedionde Rive Droite and Aguahedionde Rive Gauche which are connected by a path.
Education
The Ministry of National Education of Youth and Sports is represented in the commune of Hinche by a departmental director who has ten years of existence. Two kindergartens, many primary schools, ten literacy centers and eight secondary schools were inventoried in the commune. There are also three technical and vocational centers, one law school and a private institution of higher level.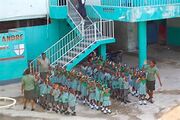 Health
The Ministry of Public Health has been represented in the municipality of Hinche for eight years by a departmental office. Three institutions: a hospital, a health center and an asylum were counted. Eight physicians, a dentist, dozens of nurses and auxiliaries, six laboratory technicians and two radiologists train the technical staff of these facilities.
Utilities
The commune of Hinche has three rivers, eleven springs, lakes, several wells and public fountains. Only the city of Hinche is electrified. The Electricity of Haiti (HRE) is the institution that manages the distribution of electricity. It provides by means of an electric motor, 77 hours of current on average per week.
Religion
Nearly 54 temples were identified in the commune; the Baptist churches reveal themselves to be more numerous, they are in number of 23.
Organizations
On the side of politics and other organizations, one political party is represented in the commune. In addition, several organizations and groups were listed; however, the latter are almost all attached to major cooperations such as the Papaye Peasants Movement (MPP), and the Pou Tout Moun organization (PTM), amongst others.
Communication
In the field of Communication, the town has a telephone service with over 800 lines. There is a postal office with a very small number of employees. Regarding the press, the town has several TV and radio stations, but does not have a newspaper / magazine.
Leisure
As for Leisure, the commune has a library, it has two theaters, but no movie theater. Soccer, volleyball and basketball are the sports practiced in the municipality. Only one court is used for the three sports. In addition, two nightclubs and nearly 25 gaugeres were listed in the municipality of Hinche.
Attractions
Bassin Zim
Caves and waterfall located just 8 km from Hinche.
With a height of some 20 meters, the latter pours into a deep basin forming a natural swimming pool. The interior of the caves is adorned with pictograms, some of which would go up to the first inhabitants of the island.
Caves and waterfalls are considered by more than one as a place guarded by spirits. With its mystical attributes, they would provide fortune and healing to pure souls.